Shopping Cart
Your Cart is Empty
There was an error with PayPal
Click here to try again
Thank you for your business!
You should be receiving an order confirmation from Paypal shortly.
Exit Shopping Cart
The Pantera Owners Club of America

http://www.capitolpanteras.org/
November 2011
text is sized for an 800 x 600 screen size
We would encourage everyone to become a POCA member, if you aren't already a member. Your membership in the national club helps fund your local chapter. You can download a membership application at http://www.poca.com/ Please help our club grow.
CAPITOL PANTERAS VISIT ANOTHER CALIFORNIA WINE REGION
October 22, 2011
by Kathy Gagnon
Late October weather in the Sierra foothills can be unpredictable, and at times extreme. However, Saturday, October 22nd, turned out to be a perfect day for an excursion through the foothills and California's other wine country… the Shenandoah Valley of Amador County. Though many people are familiar with the Napa Valley wine Region, the beautiful foothills wine region of Amador County's Shenandoah is home to over 30 wineries, and produces many fine wines. On a recent morning, five Pantera owners and their passengers assembled at a Folsom Starbucks under cloudless skies with temperatures in the mid-seventies, for a tour of the Motherlode, and wine tasting. Those present included: Gary and Sue Choate; Jim and Emilia Seiferling; Don and Kathy Gagnon; Gary Glenn and Michele Boehn; and Henry Kirk.
Leaving the suburban traffic of Folsom we enjoyed a scenic drive along the back roads of the Mother lode on the way to a stop to rest and explore the site of John Marshall's 1848 discovery of gold, at Sutter's Mill. The State of California has established a State Park at Coloma and faithfully re-created the Mill at its original site on the south fork of the American River. The park also contains a museum, and many of the old buildings have been preserved. This being an off-season day, there were a relatively small number of tourists, but the sight of five beautiful and exotic cars prompted a number of them to approach and engage in conversation with our group, and even more people stopped to take photos.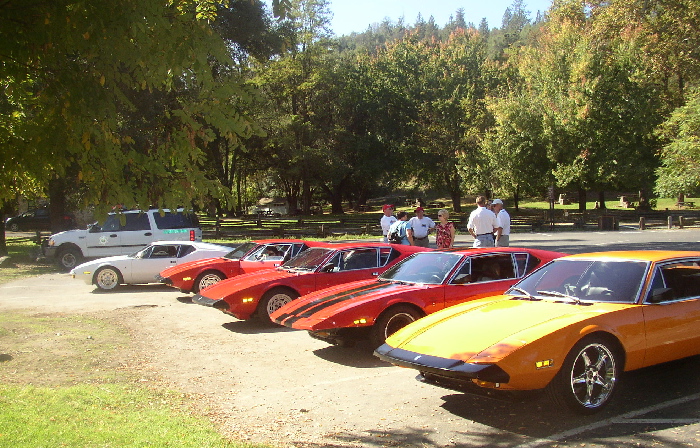 Photo op and rest break at Sutter's Mill State Park
Departing the park, we traveled higher into the foothills through Placerville, enduring its seemingly unending traffic controls and congestion. Happily, a number of other drivers deferred to our procession – apparently in appreciation of the cars, as witnessed by the number of 'thumbs-up' received- and allowed us to stay together as a group. Climbing higher, we enjoyed the traffic-free meandering two lane roads through the small towns of Somerset, Mount Aukum, and River Pines.
Leaving the higher foothills, we descended into the Shenandoah Valley Wine Region of Amador County. It was in this area, in the early 1850's, that the University of California established its very first Agricultural Research Station to study and develop wine grapes in its own vineyards.
Next we stopped at Sobon Estates, the oldest continuously operating winery in the State of California. Founded in 1856 by the Swiss immigrant Uhlinger family, the winery has been in operation since then, surviving the Prohibition years by making sacramental wines, and selling grapes to home wine makers. Before entering the tasting room, we enjoyed a light snack in the pleasant shaded picnic area. After sampling a number of wine varieties, we toured the adjacent museum containing various homemaking, coopering, winemaking, and agricultural artifacts used by the early Amador County settlers. In the old wine cellar the original four 6'x8' wine casks remain. As we started our engines and lined up to proceed on our way, the tasting room staff and customers came out in the courtyard to wave and grab a quick photo of the sight.
We then drove a few miles along Shenandoah Valley Road to the beautifully designed Mediterranean style Villa Toscano Winery, planning to take advantage of the stunning location for our commemorative photo-op. Unfortunately, Villa Toscano is a must-see location in the many chauffeured Wine Country Tours, and the place was packed. Consequently, we ended up being a photo-op for the tourists, so we took a couple of quick snap shots and went on our way to lunch in the town of Plymouth.
During the booming mining years of the late 1800's many gold country towns were referred to by names other than their official ones. Plymouth was referred to as 'Pokerville', apparently due to the availability of that pastime. Placerville, to the north, was known as 'Hangtown' due to its swift and final justice. Drytown, to the south, was so named because of the lack of a saloon… and the creek went dry. We decided to eat at the Plymouth Hotel, which was established in the late 1800's. The hotel has a restaurant and saloon on the ground floor, with lodging on the upper floors. Here we enjoyed a delicious – and very filling - late afternoon lunch and pleasant conversation before going our separate ways, as some of the group still had over 100 miles to drive home.
We all had a very enjoyable day; pleasant weather, good roads (by California standards), great scenery, and the company of others sharing our love of Panteras. As an added bonus, all the cars performed flawlessly!
Tech Session in Wilton at home of Sue & Garry Choate
October 29, 2011
by Jim & Emilia Seiferling
Emilia & I put on a number of miles before we even got to the Tech session. We started out very early with a trip to Fairfield to bring seven big boxes of old office records to be shredded at the Napa Solano Dental Society Annual Shred-a-thon. They only do this once a year, so we were not going to miss the opportunity to shred old records. We were up so early we decided to go to breakfast at a restaurant that we had been trying to go to for some time. In the past, we had always been there later in the morning and could not get in the place without a very long wait. But because we were so early this time, we actually got seated at Bab's Diner, in Suisun. This is a good place for breakfast. Emilia enjoyed great biscuits and gravy. Jim had eggs and linguica, which were also great. After breakfast, the Shred-a-thon and running a couple more errands we were on our way to Wilton and the Tech session. We arrived at Sue and Garry's about 11 AM. We were the first people to arrive, even before Lori and Mike, with the Pantera to be worked on at the tech session. After a tour of the Choate's garage and house, the four of us enjoyed a lunch of great build your own sandwiches and salad.
Eventually the tech session car and more members of the tech crew arrived and the projects were begun.
The main project was to install Kirk Evans flat firewall kit on Lori's car. While that was going on, a brake pad replacement was attempted, only to discover that the new Porterfield pads did not have the correct backing plate. They fit, but did not have the tangs that the retraction spring rests on. The old pads were down to the backing material, so the new ones were installed just to have some braking ability, even though they would rattle a bit. They will be replaced later, with the correctly shaped pads.
While the guys wrenched the ladies relaxed, chatted and even took a trip to visit some miniature horses in the neighborhood. Eventually there were over 20 people at the house for dinner after the tech session. A dinner of lasagna, salad and garlic bread was enjoyed. There were two birthdays celebrated by the group. Sue had a birthday cake and ice cream to help celebrate the occasions.
We drove back to Rio Vista that night, but at least three of Sue's extra bedrooms were used that night. We heard later that the tech session continued on Sunday with some people not heading home until Monday. I guess that shows what lengths Pantera people will go to in helping out another Pantera owner!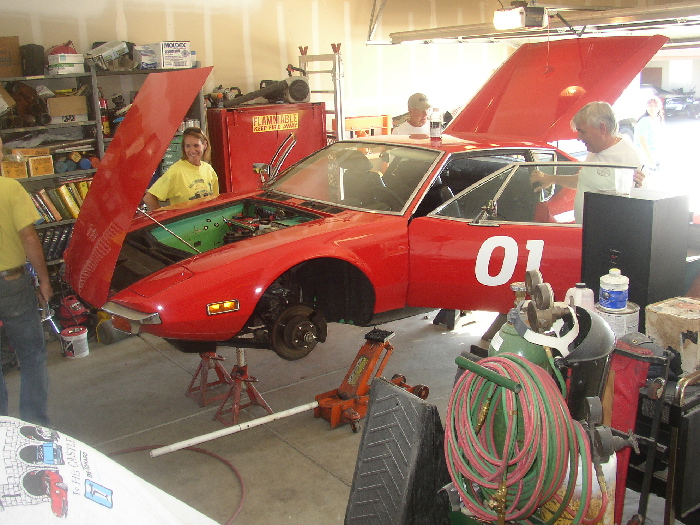 Some of the Pantera crew at work
Ryde Hotel Brunch
November 6, 2011
by Emilia Seiferling
The weather had been cold and wet earlier in the week but on Sunday the front had passed through and the weather was cool, clear, and dry. Our house was the meeting place for those brunch attendees traveling from the west and south. We had coffee, tea and a bathroom for those people who had made the morning drive to Rio Vista. We greeted Nancy Haney, Lori Albino, and Steve & Merry Dalcino. The two Mikes were not in attendance. Mike H. was ill and Mike D. was in Detroit. Everyone was on time and had time to stretch their legs and relax before we caravanned to the Ryde Hotel. John Worsley had made all the arrangements for our group to be at the Ryde. Thank you John!
The fifteen-minute drive from Rio Vista on Highway 160 was a good ride. The first local tanker truck pulled off in about one mile and the only other truck in front of us waved us past him when we caught up to him as we were about to cross the Isleton Bridge. The rest of the drive on 160 was zero traffic. The Sacramento River that snakes next to the road was like glass. There were even a few trees along the way that showed some fall color. We arrived at the Ryde Hotel to find John waiting in front in the designated Capitol Pantera parking area. We filled the area with three Panteras and the Bricklin. Already at the Ryde with John, were Garry and Sue Choate, and Lamar Fairchild and friend Maureen.
The Capitol Panteras in front of the Ryde Hotel
We enjoyed our meal. There was plenty of conversation about many topics. Almost everyone is planning on attending the Capitol Pantera Christmas party on December 3 at the Choate's home in Wilton.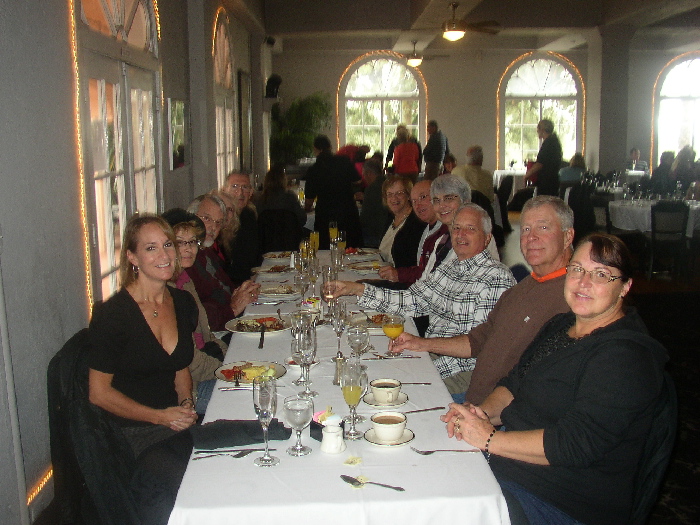 We all got to be in this photo at the Ryde Hotel
So once again it was a good day due to the fact that we drive a Pantera.
Summary of the November 2011 Capitol Panteras Meeting
The November meeting had no Club cars in the parking lot. Members attending the meeting, Jim & Emilia, Don, Ken, John W., Garry & Sue.
There was no raffle or "Driving for Gas $" drawing.
Sue reported that the Capitol Panteras Christmas party will be at their home on Saturday, December 3. Sue will be preparing the main course, a potato side dish, rolls & butter and nonalcoholic beverages. She would like some help with munchies and dessert. We had a sigh up for the additional food items you would like to bring. Remember the cost of the party is $10 per person. Attire for the party is Holiday Casual. It is a BYOB, to insure you get what you want to drink. This year the gift exchange theme is Argentina in honor of Alejandro deTomaso's birthplace. If you want to take home a gift you must bring a gift. The gift should have ~ $20 value. If you cannot think of a Argentinean themed gift, you can think car, since we are a car club. Please RSVP to Jim at [email protected] by Wednesday, November 30. So far we have 22 people attending the party, but not everyone has signed up for a food item. Those people need to also contact Jim with their food item so that the menu can be finalized. The Choate's requested that their address not be sent out in the normal newsletter, so the party address will be e-mailed to all people who RSVP'd.
There will be no regular monthly Capitol Pantera meeting at Mimi's in December. We hope to see more people at the January meeting when we will be working on the 2012 CP calendar of events. Please plan to attend with ideas to put on our Club schedule of events.
Wanted: Articles for CP Newsletter
If you have attended a car function of any type, please write about your car adventures and send it to [email protected] to be included in the next Capitol Pantera newsletter. If newsletter articles are not received, then it will be more of Jim & Emilia's automotive adventures or "The Motoring Mouth".
2011 EVENTS CALENDAR
Capitol Panteras Events in Red
Nov 27 Euro Sunday, Sacramento @ Pavilions
Dec 3 Capitol Panteras Christmas Party; hosts Garry & Sue Choate. 5:30 PM arrival
There will be no monthly meeting at Mimi's in December.
Jan. 10, 2012 Capitol Pantera meeting at Mimi's
Please keep us informed of other dates and activities.
Jim & Emilia Seiferling
Co-Presidents, Capitol Panteras
http://www.capitolpanteras.org
#1575 [JHSTBAD]
#7114 [JIMS CAT]
WB6BET-Jim
KI6YYT-Emilia
Life goal: To be the person my dog thinks I am.
Categories: Panteras Northwest Newsletters
/