Shopping Cart
Your Cart is Empty
There was an error with PayPal
Click here to try again
Thank you for your business!
You should be receiving an order confirmation from Paypal shortly.
Exit Shopping Cart
The Pantera Owners Club of America

http://www.capitolpanteras.org/
May 2011
text is sized for an 800 x 600 screen size
We would encourage everyone to become a POCA member, if you aren't already a member. Your membership in the national club helps fund your local chapter. You can download a membership application at http://www.poca.com/ Please help our club grow.
Summary of the May 2011 Capitol Panteras Meeting
The April meeting had two Panteras, a Bricklin, a Mustang and a DeLorean in the parking lot at Mimi's. Lamar and John McNamee drove their Panteras, while John Worsley was in his Bricklin, Don & Kathy Gagnon in their Mustang and Ken Montgomery in his DeLorean. We had five cars in the drawing for "Driving for Gas $". The winner of the drawing was Lamar. Those also attending the meeting, but not is their Club car: Jim & Emilia, Peter Kovacs and Curt Hall who are PCNC members who live in Modesto, Rick Carlile, Jeff Budelli. Treasurer John held the raffle. The prize was a dust wand. He said he needed a new one, so why not have it as the raffle prize that he might actually win and take home. It was a good plan but Jeff was the one taking the new dust wand home after the raffle.
Emilia reminded the group that the Club had authorized $200 toward buying the POCA raffle tickets the Capitol Panteras will be asked to sell in Reno this June. Any prizes won with Club tickets will be used as raffle prizes at future CP meetings. Lamar had given Emilia $20 to buy raffle tickets. If he wins we will bring the prize back for him. Don & Kathy were reminded to buy their raffle tickets from Capitol Panteras when in Reno. We are not aware of any other CP members who will be in Reno. Last year Henry & Karen did make it to Reno for part of the weekend. Also making it to Reno last year were the Middleton's; John, Susan, and their daughter. They are CP members that live in Fresno. We hope to see all these people in Reno again this year.
The Jackson Wine Tour and Lunch was discussed. Kathy had everything planned out for the day. With the cold and rainy weather that is expected for Sunday and the increased road traffic due to the closure of Highway 50, which will divert lots of traffic to our tour area roads, the decision was made to reschedule the Jackson tour to October 22, 2011. This will also be after the normal "car show season", so it will be a good wrap up for the driving year. We are sorry to reschedule the event, but look forward to good weather and less traffic in October.
Lamar reminded us that he will be leading his fourth annual Placerville drive in September. The exact date in not yet set. This has been good fun in the past with games for the passengers and prizes in several categories! We will set the exact drive date at the next CP meeting.
Emilia said that she would work on "Breakfast and Drive in the Delta" during the summer in late June or July. It would be earlier than brunch to beat the summer heat. She needs to check to see what restaurants in the Delta area will be open early enough and have adequate parking. Details will be given at the June CP meeting.
Ken reminded us of the British Car Show in Woodland, Sunday, May 22. EuroSunday will also be held in Woodland that day to piggy back of the British Car Show. Ken will be there displaying his DeLorean. He said there has been great response from the British car community and is always a big show. He also reminded us that the show is free to the public. Name your favorite British car and it will be there.
Ken passed around a copy of the new book that his friend wrote. It is the definitive book on the California Special Mustangs. Ken had assisted his friend with the book and it is extremely well done. Here is a link to the book; http://pmndesigns.com/
Just a reminder to everyone to make their reservations of Reno. We have made our room reservations and signed up for the dinner at the National Auto Museum. The Museum dinner is a special event with the museum open only to our POCA group. It is a fun evening strolling among the auto displays with a glass of wine, then dine in the Museum. So if there is anyone who reads this CP Newsletter who is free for dinner on Wednesday or Thursday, contact us about getting a small group together for dinner. There are several restaurants that we would like to go back to in Reno and small groups of no more that six are easier to get seated.
Jeff confirmed that the Festa Italiana is the first full weekend in August. It will be at the same location as last year. The giant shade tents will be back. The Pantera display day is Sunday. Remember if you display your Pantera on Sunday you receive free admission and drink tickets. This event is a good one; don't miss it. Jeff asked if you know any other Italian car or motorcycle owners who would like to display them during the Festa, please contact Jeff. Jeff is the auto display chairman for the entire Festa Italiana!
The following photos are from Ken. He brought his camera to take some photos at the CP meeting. He had noticed the lack of photos in the last couple of newsletters and wanted to have a photo in this newsletter, thank you Ken. Maybe with the better weather and the summer car activities we will have too many photos for the next CP newsletter.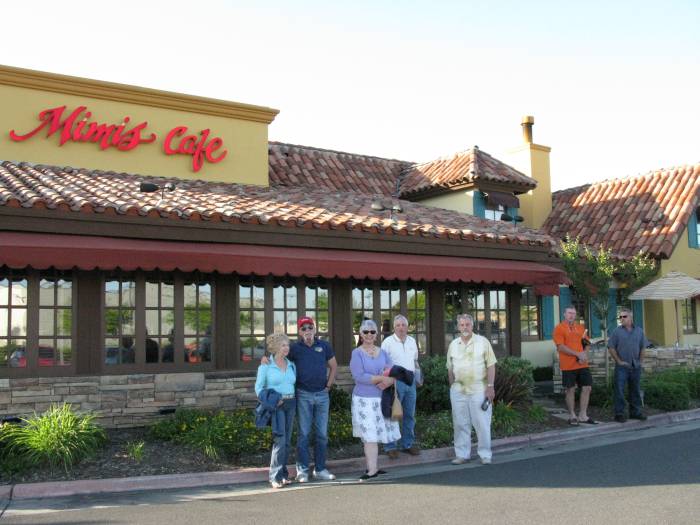 (L to R) Kathy & Don Gagnon, Emilia & Jim Seiferling, John Worsely, John McNamee, Jeff Budelli
John's Pantera, Ken's DeLorean, John's Bricklin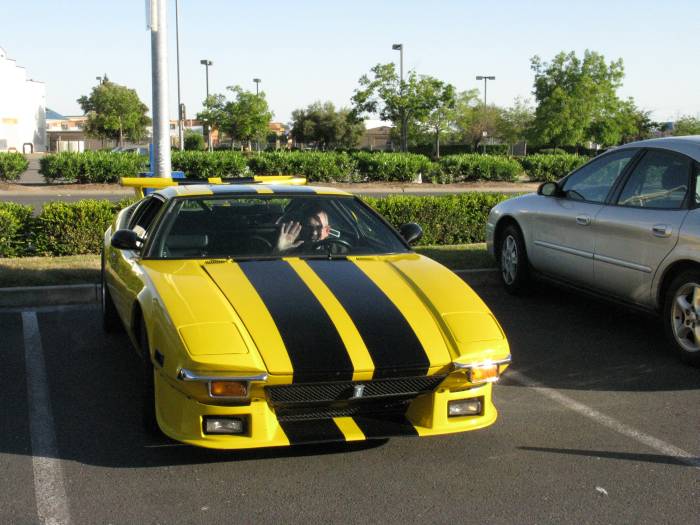 Lamar's Pantera
Wanted: Articles for CP Newsletter
If you have attended a car function of any type, please write about your car adventures and send it to [email protected] to be included in the next Capitol Pantera newsletter. If newsletter articles are not received, then it will be more of Jim & Emilia's automotive adventures or "The Motoring Mouth".
2011 EVENTS CALENDAR
Capitol Panteras Events in Red
Notes:
Capitol Panteras member, Rick Carlile, will be racing his TVR in the CSRG Series.
http://www.csrgracing.org/ Rick has been accepted to race at the Sonoma Historic
Motorsports Festival, but was not selected for the Monterey Historics.
May 14         PCNC tour of Sonoma Wine Country.
May 20-22    CSRG Vintage Races @ Thunderhill
May 22          British Car Show, Woodland Fairgrounds
May 22          EuroSunday, Sacramento @ Woodland Fairgrounds
June 2-5        Sonoma Historic Motorsports Festival @ Infineon - Rick is racing the TVR.
June 8-12      POCA Fun Rally, Reno. It is the Pantera's 40th anniversary and POCA's 30th!
June 14        Capitol Panteras meeting at Mimi's
June 18         Car Show in Arnold - Ch. Duane
June 26         EuroSunday, Sacramento @
July 12          Capitol Panteras meeting at Mimi's
July ??         Breakfast and Drive in the Delta - Chair- Emilia
July 24           EuroSunday, Sacramento @
Aug 5-6        Mini Nats @ Infineon. Shelby Club
Aug 6            Festa Italiana, Sacramento, http://www.italiancenter.net/
Aug 7           Festa Italiana Car Display on Sunday - Chairman- Jeff Budelli
Aug 9           Capitol Panteras meeting at Mimi's
Aug 18          "The Tour", downtown Carmel @ Noon. http://www.pebblebeachconcours.net/Tour.htm
Aug 19          Concorso Italiano, http://www.concorso.com/default.asp
Aug 19-21    Monterey Historic Races, Laguna Seca http://www.montereyhistoric.com/
Aug 28          EuroSunday, Sacramento @
Sept 10 or 24   3rd Annual Placerville Run. Chairman-Lamar Fairchild
Sept 13       Capitol Panteras meeting at Mimi's
Sept 25       EuroSunday
Sept 30-Oct 2   CSRG Vintage Races @ Infineon
Oct 8          20th Annual Car Show, Rio Vista - Chairman- Jim ( lunch at Foster's Big Horn)
Oct 9           Italian Car Show, Alameda. A benefit for Special Olympics. No entry fee for exhibitors.
Oct 11        Capitol Panteras meeting at Mimi's
Oct 15-16   Fall Classic, open track at Thunderhill. Shelby Club.
Oct 22         Jackson Wine and Lunch Tour - Chair - Kathy Gagnon
Oct 22         Car Show, Mustangs Plus, Stockton.
Oct 23         EuroSunday, Sacramento @
Oct 28-30   CSRG Vintage Races @ Thunderhill
Nov ?         Capitol Pantera Brunch @ Ryde Hotel. Chairman- John Worsley.
Nov 8         Capitol Panteras meeting at Mimi's
Nov 27        Euro Sunday, Sacramento @
Dec 3 or 10   Capitol Panteras Christmas Party at ???
Please keep us informed of other dates and activities.
Categories: Panteras Northwest Newsletters
/